Planning a kitchen renovation in Sydney's North Shore?
In most Sydney North Shore homes, a kitchen is more than a place to cook and eat your meals, it is a gathering area for family and friends which should be both comfortable and practical.
If you decide to do some kitchen renovations in Sydney's North Shore, choose a kitchen design that will both compliment your lifestyle and add value to your home.
Here are a few important things to consider when you renovate your kitchen.
1. Purchase quality materials
Obviously, your renovation builder will be able to advise you on some of best materials to use, but choose top-quality hinges and drawer slides to ensure cabinet doors won't swing open on their own and drawers won't get stuck.
Wherever possible, avoid purchasing drawers that are made of particleboard or stapled together. Choose wood for the interior of cabinets as it is more durable than MDF, laminate, particleboard, or melamine.
2. Consider the height of your cabinets carefully
Again, your North Shore kitchen designer, interior designer or builder  can advise you in this area. However, if you have eight-foot ceilings, consider cabinets that reach to the top. This will increase storage and possibly allow for extra wall space for open shelves or artwork. If you have high ceilings, leave about 18 inches above the cabinets.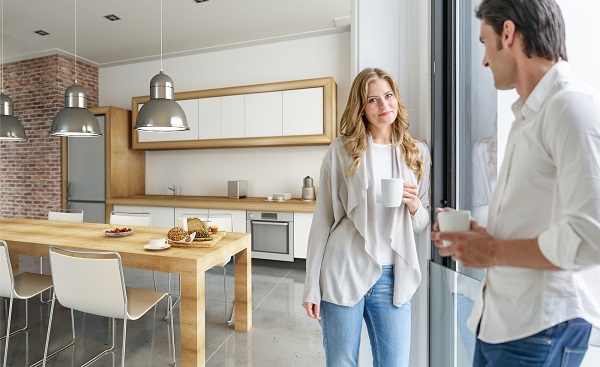 3. Paint or stain cabinets may be an option?
A good-quality stain on wood cabinets can be forgiving, but can also date quite quickly and be hard to change, whereas painted cabinets can take on your personality and be repainted as often as you like.
4. Huge choices in kicthen countertop
Marble, granite, and stained wood add warmth and elegance to any kitchen. However, if you want something a little different, soapstone, slate, limestone, and even plastic laminate with a wooden edge are viable choices.
Talk to your kitchen designer or renovation builder to determine which type of countertop is best for your specific needs.
5. Think about long-term maintenance
When you are choosing your kitchen appliances and fixtures, think about how much time you have to spend keeping everything clean and smudge free. Natural surfaces such as marble, granite, brick, terra-cotta, and slate can be difficult to clean but can camouflage crumbs and mess.
On the other hand, light colours and smooth surfaces such as laminate counters and ceramic floors are easy to keep clean but often show every little crumb. As for appliances, stainless steel may look great in the shop, but is very difficult to keep smudge and fingerprint free.
Need help with your kitchen or home renovation in Sydney's North Shore?
If you are looking for a reliable builder, cabinet maker or bathroom renovator  for your kitchen and bathroom renovations in Sydney's North Shore, why not check out the Tradebusters Free tradesmen concierge service?
You can tell our team about your kitchen renovation here  and we will help you find the best local builders, and other recommended tradies within our trusted network.
Need help with other local businesses in North Shore Sydney NSW?
Did you know that Tradebusters Connect powers the  North Shore Top 3 Local Business Choice directory near you. Here you will find best recommended businesses in trades, real estate and finance.
See who got a Top 3 Local Choice spot today
Real Estate Buyers Agent North Shore Sydney
Conveyancers North Shore Sydney
Electricians North Shore Sydney
Financial Planners North Shore Sydney
Mortgage Brokers North Shore Sydney