Only the best Castle Hill Level 2 electricians get this
If you need a experienced and licensed level 2 electrician in Castle Hill, then you are in the right place. We know you wouldn't accept any "Dodgy Joe" into your home or workplace, and so unlike other directories, our philosophy is never to accept him (or her!) into ours.
Our reference checking and interview process for an electrician to join our Tradebusters Connect Top 3 Local Business Pick directory is one of the most stringent you will find in Australia. We aim to help you save time, $$$ and risk, and most importantly, allow you access the best level 2 electricians in Castle Hill – 100% supported by your locals.
Meet our Top 3 Local Business Picks
SPECTRA ELECTRICAL & COMMUNICATIONS
"He is a straight shooter" is what one customer told us about business owner, Les McCahon from Spectra Electrical & Communications based in Western Sydney.

Les is all about keeping Sydney homes and commercial spaces safe and up-to-date.

In business for over 18 years, and supported by a small team of electrical experts, they specialise in the tricky electrical repair and maintenance jobs that not many other general electricians would do.

As such, they've established a great reputation in the commercial and industrial space as authorised Level 2 electrical service providers in Sydney, certified by the NSW Department of Energy.

With 24/7 emergency services, they offer free competitive quotes. So, whether you're looking for affordable residential electrical work for your home or large-scale cabling work at an industrial site, Les and the team are a great local choice.
Contact us today:
What your locals told us
"I have used Les and his team over 50 times. Due to his Level 2 expertise, he takes down electricity wires and replaces them so that we can conduct our tree services work. I rely on him to show up on time and do a good job. He is very reliable and has never let us down. I definitely recommend him to be part of your Top 3." Julian Parry – Arbor Pride, Thornleigh
LONE STAR ELECTRICAL SERVICES PTY LTD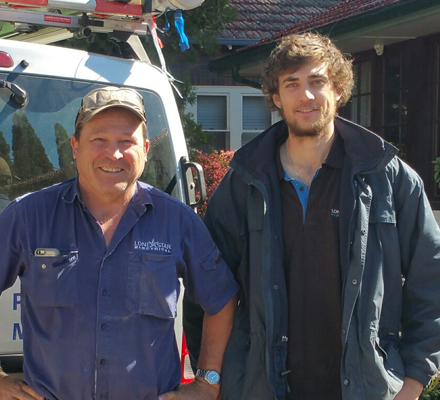 We love that Michael is out there sharing his industry knowledge and expertise through apprenticeships.

In the industry for over 30 years, Michael and his team are very passionate about energy efficient designs.

Specialising in general electrical services as well as solar power installations, they've got you covered for both residential and commercial electrical repairs and maintenance services as well as after hours emergency services.

Based in Sydney's North Shore and servicing you across the region, including Beecroft, Epping, Cheltenham, Ryde, why not contact Michael today?
Contact us today:
What your locals told us
"Michael is more than just another tradesman- he is now a friend! I have known him for over 5 years and he has completed numerous jobs for me. Honest, reliable and great communication skills. I have always been 100% happy with his work and yes, I would support him being in your Top 3 Local Choice". Matthew Morrish
Looking for another recommended local business?
A Top 3 Level 2 electrician in Castle Hill can help you today
A Top 3 Local Area Choice Level 2 electrician in Castle Hill can help you with a range of Level 2 electrical services, including: residential electrical works – commercial electrical – general maintenance –  meter & energising – disconnections/reconnections – consumer low voltage main – power services – switchboards – electrical rewiring – emergency electrical – internal and external lighting –  renovations & construction – solar electrical services – highway & street lighting and more. Simply ask.
Latest tips: Before you hire a Castle Hill Level 2 electrician
Did you know that a Castle Hill Level 2 electrician must carry a licence? This relates to all electrical and solar works, regardless of the value of the job.
You can ask your Castle Hill Level 2 electrician directly to produce their licence, which is usually a card about the size of a credit card. On the licence you will find details such as the contractor's name or business name, their registered address, expiry date, and licence number.
For Level 2 electricians performing work on residential properties, the licensing authority is the NSW Fair Trading office. You can ask your local level 2 electrician for their licence name and number or you can visit the website www.fairtrading.nsw.gov.au and do an online check yourself.
Public liability insurance is also a must for any Level 2 electrician. No matter how skilled the Level 2 electrician is, accidents can happen, which may lead to damages or injuries at your home to you, the electrician or others. To protect yourself from potential risk exposure, ensure the electrician carrying out work on your property has public liability insurance.
How? Ask your local Level 2 electrician for a copy of the policy and ensure it is current.
You're covered with a recommended Top 3 Level 2 electrician across Castle Hill and the Hills District
Castle Hill Level 2 Electricians | Electrician Castle Hill | Baulkham Hills Level 2 Electricians | | Emergency Electrical Services Castle Hill |  Level 2 Electrician Kellyville | Electrical Services Kellyville | Level 2 Electrician Northmead | Level 2 Electrician Riverstone | Rouse Hill Level 2 Electrician | Level 2 Electrician Winston Hills | Dural Level 2 Electrician | Level 2 Electrician Thornleigh | Level 2 Electrician Pennant Hills| Level 2 Electrician Bella Vista | Level 2 Electrician Kenthurst | Level 2 Electrician Beaumont Hills | Level 2 Electrician Hills District | Electrician Hills District | Electrician Sydney