We know the best Hills District office caterers
Are you looking for a corporate caterer to support your Hills District office events? 
Then you are in the right place as we've established connections with some of the best office and corporate caterers around.
Our reference checking and interview process for a Local Caterer to join our Tradebusters Connect Top 3 Local Business Pick directory is one of the most stringent you will find in Australia. We aim to help you save time, $$$ and risk, and most importantly, allow you to connect with highly recommended local caterers that are passionate about helping local businesses in the Hills District community.
Call a Top 3 Local Choice Business now
Campbell Macleod, THE STAGE DOOR ESPRESSO BAR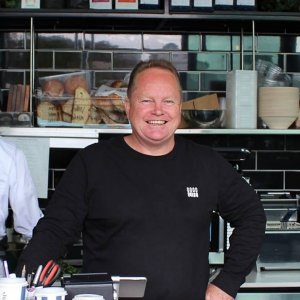 More than just the BEST coffee, it's the STEP-UP cafe and office catering service powering businesses across the Hills District. Meet Top 3 Local Choice, Campbell MacLeod from The Stage Door Espresso Bar. "It's nice to give our employees a better food experience" is how one office manager described the catering experience. And our team at Tradebusters Connect were lucky enough to experience it too. We had the pleasure of meeting Campbell and enjoyed both the perfectly made coffee roasted from quality beans as well as the gourmet sandwich catering at a business networking event.   What stood out to us is how Campbell has created a matchless service to support the local business community in the Hills District. From being able to enjoy your morning coffee and quick healthy lunch in the beautiful outdoor space as well as catering office functions.  And to top it off, they even offer onsite conference rooms for your business events. With two locations - Unit 124, 14 Lexington Drive, Bella Vista and the Bella Vista Railway Station, why not SET-UP today?
Get in touch
What your locals told us
"Highly recommended for business catering and the coffee is the BEST in the Hills District!" I got to know Campbell about 18 months ago as I had to source caterers and a venue for a weekly business networking meeting. The variety and presentation of the food always stand out. And, further to have access to a free meeting room on-site (as well as in-office catering) is excellent support for our business community. Campbell definitely should be a Top 3 Local Choice. Jess, Business Owner and Networker, Hills District
Looking for another recommended local business?
A Top 3 Hills District office caterer can help you today
A Top 3 Local Area Choice Hills District office caterer can assist you with a range of office and corporate catering services including: staff lunches and morning teas – seminar and training catering – boardroom meeting catering  – after 5 events  –  special staff functions and more. Simply ask!

We've got you covered for office and corporate catering across The Hills District