Meet our Top 3 Local Business Picks
Michael Hobbs, HOBBS PLUMBING
"We were not disappointed. They offer a highly professional yet personal service." is what one client told our team about Top 3 Local Business Pick, Michael Hobbs from Hobbs Plumbing. A family operated business, around for over 30 years in the Blue Mountains, we discovered the Hobbs family has a rock-solid reputation in the local community and is known for operating with high ethics and values. Michael tells us he has seen the disasters that can occur when homeowners engage the wrong plumber. It can be costly and stressful. That's why he has put the best team together to ensure the customer experience is of the highest standard.  Based in the Blue Mountains, their fabulous team can help you with all your plumbing jobs, big and small: Leaking taps, toilets, gas-fitting services, rainwaters, gutters and downpipe installation & maintenance, renovations and all residential, industrial and commercial plumber services.
Get in touch
What your locals are saying
"In 25 years I have never heard anything negative... I have personally worked with the Hobbs family and referred them to friends and others on multiple occasions. They are efficient and very particular as far as anything they do. They absolutely should be a Top 3 preferred Local Area choice." Sascha Lotz  from Lotza Design, Blue Mountains
Daniel, PLUMBMASTER PLUMBING PTY LTD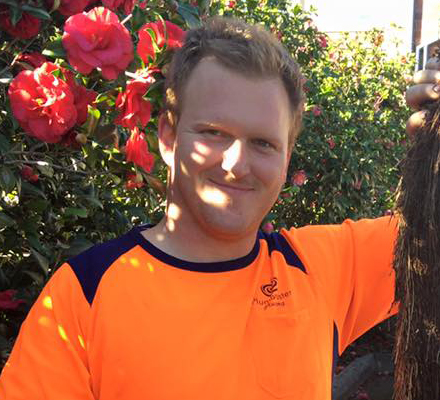 At Tradebusters, we love supporting locally run family businesses, and Daniel Sullivan from Plumbmaster Plumbing is one great and trusted local choice. Over 9 years as a plumber, Daniel really prides himself on offering customers high work ethic and an exceptional customer service experience. Based in The Hills District, Daniel has you covered for all your residential and commercial plumbing jobs. Plumbing services all across The Hills District, Castle Hill, Pennant Hills, Norwest, Blacktown, Parramatta, North Shore and surrounding areas. Contact Daniel now!
Get in touch
What your locals are saying
"Daniel has been doing all our plumbing work at Reading Cinemas. Communication has been very easy, excellent quality of work and always gives us open and honest information. I highly recommend Daniel to everyone. We have used many plumbers and some you just wouldn't recommend, but Daniel is definitely one of the best in his trade! I would not hesitate to recommend him for your Top 3". Matt Crosley, Reading Hill Cinemas
Looking for another recommended local business?
We've got you covered:
Find a Plumber | Plumbers Penrith | Local Plumbers Penrith | Blocked Drains Penrith | Emergency Plumbers Penrith | Hot Water Plumbers Penrith Sydney | Agnes Banks Plumbers | Hot Water Systems Badgerys Creek | Licensed Plumbers Berkshire Park | Blocked Drains Cambridge Gardens | Local Plumbers Cambridge Park | Hot Water Systems Castlereagh | Plumbers Claremont Meadows | Emergency Plumbers Colyton | Plumbers Cranebrook | Blocked Drains Emu Heights | Emergency Plumbers Emu Plains | Emergency Sydney Plumbers Erskine Park | Licensed Plumbers Glenmore Park | Plumbers Jordan Springs | Hot Water Systems Jamisontown | Plumbers Kemps Creek | Kingswood | Kingswood Park | Licensed Plumbers Leonay | Local Sydney Plumbers Llandilo | Blocked Drains Londonderry | Plumbers Luddenham | Plumbers Mount Vernon | Mulgoa | Emergency Plumbers North St Marys | Blocked Drains Orchard Hills Sydney | Blocked Drains Oxley Park | Plumbers Penrith | Hot Water Systems Regentville | St Clair | Blocked Drains St Marys | Licensed Plumbers South Penrith | Emergency Plumbers Wallacia | Local Plumbers Werrington | Hot Water Systems Werrington County |  | Emergency Plumbers  Werrington Downs