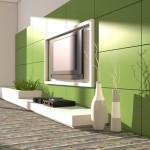 By green decorating ideas, we don't mean environmentally-friendly decorating choices, but that could also be the case if you want to. What we mean by that is decorating your home, literally, using the colour green, which is perhaps the freshest and most rejuvenating of all items in the colour wheel.
That makes sense, considering that green has always been regarded as a symbol of life, rebirth, renewal and growth. Green is also soothing, energetic and peaceful. These qualities are without doubt the reason why designers, decorators and home owners love to decorate homes in this colour.
If you like decorate your home with green for that atmosphere of calm and balance and harmony, here are a few green decorating ideas you might want to give a try.
Bring in the house plants
What better way to decorate your home with green than bringing house plants in? They are, after all, the ultimate in functional decorating. Aside from utilising the colour green for your décor, house plants are also quite helpful in creating a more relaxing ambiance in any room. Plus, they give off oxygen and filter the air in your home. We recommend English Ivy, Peace Lily and the all-too common spider plant when you decorate your home with green using house plants.
Green furniture
Green furniture always looks good because green does work well with every colour in existence. Try painting a chest of drawers green. If the couch in your living room is of a different colour, then throw in some green throw pillows. An all-white bedroom will certainly look get an added splash of character if you use grassy green beddings.
Green rug or carpet
If it's one big, instant burst of green that you want for your room, you can start by getting a green carpet or a rug for your floor. It's usually less expensive than other types of furnishings, and can be easily moved from one room to another room that you want to make green. For the rug or carpet to better coordinate with all your other stuff, go for a style that bears multiple shades of green.
Green accessories
Sprinkle your living room with green vases, lamps and other accessories. You can overdo it if you want the room to be really green, but if you want everything to be just a bit green, a few well-chosen pieces will give you a green enough fix. You can try placing a green runner on a console. Setting the table with apple green dishes would also be a great idea.
Paint your walls green
This is actually the ultimate way to decorate your home with green. As green comes in variety of shades and tones, you are going to have a field day experimenting to see which one would be perfect for your kitchen, your living room or your bedroom. Deep emeralds, for instance, would be nice for your kitchen. Bright limes, on the other hand, should be your choice for the bedrooms. Then again, green in all its shades and tones go with just about any colour because it is essentially a neutral.
If you don't want to paint your walls green, you can also go the wallpaper route for your walls. There are literally countless green wallpapers to choose from.
Have fun in your quest to decorate your home with green!