Planning a home interior design? Discover whats hot in 2019
New trends come and go every year, but 2019 has been shaping up to be the year of sensible home interior design choices. Muted colours, minimalist interiors, and durable décor appear to be firm favourites this year.
Open plan living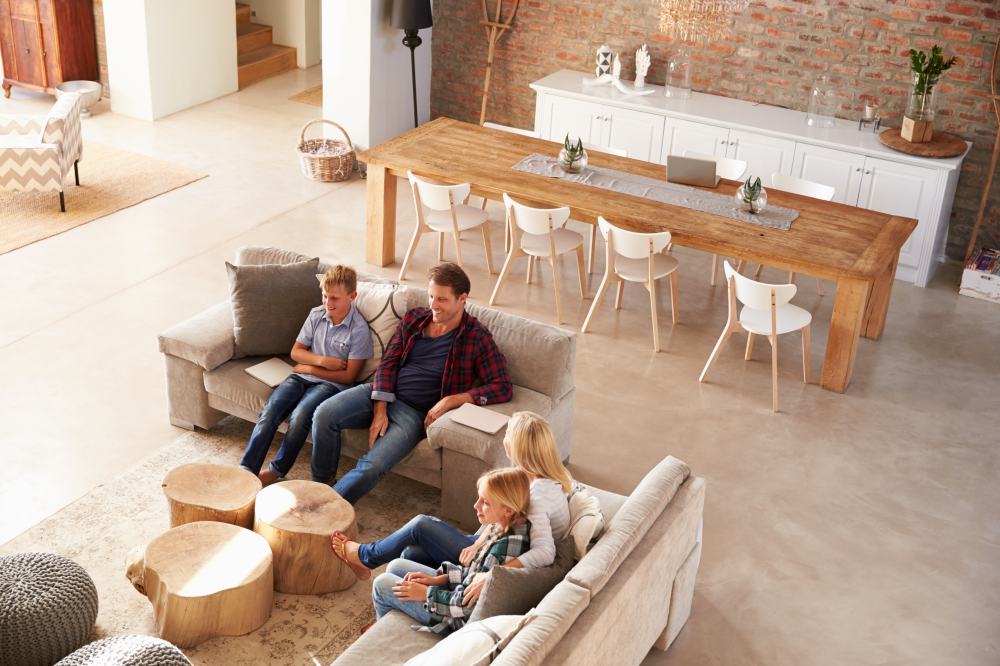 There is an increasing desire for room to breathe with open, welcoming spaces and airier designs. Millennials entering the home market are showing their preference for open floor plans and room to move.
Kitchens and dining rooms meld into a single, open, and airy space. The open floor plan creates more space by removing walls and flooding the area with light. Mums have an easier time to watch the kids while preparing dinner. The social atmosphere is also improved as nobody is closed off from the living space. A great kitchen designer can help you with the planning.
The rise of cool colour tones
Lighter cooler tones are everywhere in 2019, and it's not just for walls. Kitchens are also getting the chalky white or muted shades of grey treatment.
Walls are getting a fresh new look with greys, blues, and whites.
Speak to your local painter about the latest trends.
Appliances for the kitchen are seeing a shift in colour preferences as well. Gold and brass are giving way to the shine of stainless steel, or blacks and whites for added contrast.
Design choices for flooring in 2019
Dark hardwood floors present a nice contrast to the lighter shades on the walls and add warmth to a room. Wood is also a sensible choice because it's always in style to some degree, and it's hardwearing, so will last generations. If hardwood flooring isn't a viable choice, many homeowners are opting for wood lookalikes such as timber look tiles.
Kitchen cabinets
Homeowners are getting more adventurous with their kitchen cabinetry. Where glossy white cabinets once ruled it's now about blacks, grey-washed blues, and even shades of green. Fixtures are also getting some thought, with some beautiful contrasts happening with brass and other metals.
Simplicity and minimalism
Decluttering is all the rage in 2019, and the philosophy is having an impact on interior design choices. Minimalism and decluttering have strong ties to living in simpler times with less stress. Owning less means less mess and clutter and more free time.
Ideas for creating a less cluttered space and building a more organized life are keeping interior designers busy with innovative ideas.
Minimalist style furniture doesn't have to be less appealing. Curves and angles create pleasing designs, and many people are naturally drawn to the simplistic styles of form and function.
The perfect local experts to help. Finding an interior designer?
Redesigning the space you live in is a big challenge and needs the professional touch. Finding a qualified Sydney interior designer with the perfect balance of creative flair and practical design skills isn't easy.
You need to do your due diligence before hiring, which means you must create a shortlist, check credentials and qualifications, review portfolios, and then conduct an interview and get a quote.
Planning on building a home or renovating your current one?
To find local architects, recommended interior designers, home builders and other tradies, our free Tradebusters Sydney directory can help connect you with our Top 3 Local Business Picks near you. Each business has been vetted for your peace of mind.
More useful links:
Home Renovations Sydney Builder